Custom Culinary, Inc. was founded in 1945 and became a pioneer in the foodservice industry creating beef and chicken soup bases. In 1965 the company pioneered Meat First™ bases and formalized its selling program to the foodservice industry. 
In 2004 we changed our name from Custom Food Products to Custom Culinary, Inc. to better reflect our focus on providing a full line of authentic culinary flavor solutions to foodservice operators and processors.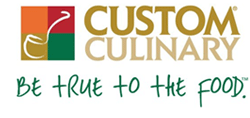 For more than half a century, we've focused on a single mission at Custom Culinary, Inc.: to create the finest-quality, most authentic culinary flavor systems to our foodservice and food processing customers. Our products are made by chefs for culinary professionals, and are designed to enhance their culinary expertise. True taste begins with Custom Culinary®.
Today our products are available in multiple countries around the world. Custom Culinary, Inc. has a global presence which enables us both to serve the needs of our customers in various world regions and also to create authentic products in each region of the world and make them available to culinary professionals both in the region and in other parts of the world.
Custom Culinary® bases, gravies and sauces are offered in a variety of easy-to-use formats including pastes, concentrates, frozen, ready-to-use and dry mixes. By offering a wide array of flavors and formats, Custom Culinary, Inc. strives to be the leading provider of culinary flavor systems to the foodservice industry. 
At Custom Culinary, Inc. we are dedicated to crafting sauces, bases, gravies and other culinary flavor systems that are authentic and that deliver uncompromising true taste every time. That is a promise we make to our customers and to ourselves. And we are passionate about keeping it.