Culinary Trends:
Millennials Like It Hot
Jun 25, 2014
I just read that natural extracts specialist Kalsec has partnered with Mintel to develop the Kalsec HeatSync Heat Indexes.  In the US they evaluate more than 2,400 food and drink menus, specifically the usage of 34 different peppers. 
Key Finding: Consumers are demanding hotter, spicier foods.  Their US index surged 38% in the first six months of 2013.  Szechuan pepper, associated with Asian foods, gained popularity.  They also cited that younger people have been weaned on spicier foods, as evident by Sriracha (a hot chili paste) which was one of the top three flavors in PepsiCo's Lay's potato chip contest "Do Us a Flavor".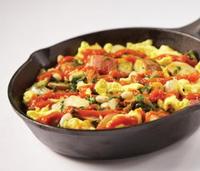 I am proud of how our Culinary Team here at Custom Culinary® stays on top of all the food and flavor trends.  They were on the hot & spicy bandwagon from the gecko.  Makes my job as a marketer exciting!  When it comes to Szechuan, try our Gold Label Sweet & Spicy Szechuan Sauce.  Our team has created some great sauce variations utilizing this product as well as recipes for soup, Asian-style meatballs and Char-Grilled spare ribs. 
Another great spicy product to check out on our Gold Label Ethic Accents Ready-To-Use Sauce product line is Gold Label Spicy Red Pepper Sauce.  This product works well with sandwiches, entrees, and even breakfast skillets. Our team has created a Mediterranean Style Breakfast Skillet, something different to help you stand out!
At the end of the day your Millennial guests will thank you.